the Best Robot Vacuum for Pet Hair in a Mom's Eyes
*This essay is a letter from a mother who bought our AIRROBO robot vacuum T10+  in May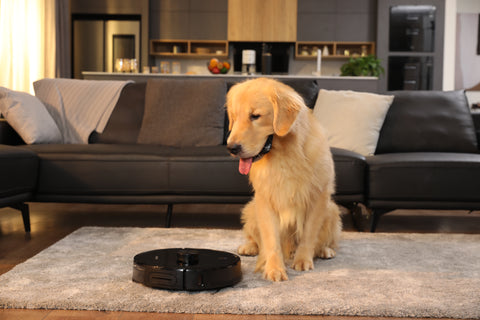 Hi there, my name is Mara, and I am a proud housewife to my husband Jim, and a mom with a 3-year-old daughter Alice. I am also a pet parent to a lovely golden retriever named Morrison. We have a beautiful 3-bedroom home with an open-plan living area in a peaceful and lively neighborhood.
Morrison has been with us since Alice was born but since he's gotten older, I've noticed a lot of shedding. I am particularly troubled that my daughter sleeps with him at night, and come morning, there's a lot of dog hair on her bed and all over her body. I love our home and I love our pets, but the house is quite large. From doing laundry, cooking, and cleaning, I have no time for myself, and I end up burnt out, anxious, and short-tempered most of the time. It's not easy being a housewife at all and if there was something that could help me clean the house, it would be so sweet if I could have a few moments every day for myself. A cup of coffee or a glass of wine while I read a book or scroll through social media would be a great treat for myself.
So anyway, one day, Alice's aunt, Linda, and her daughter, Lisa, came over to spend their Sunday afternoon with the kids. The first thing they noticed when they entered our front door was all the dog hair on our floor. I was so embarrassed. I was doing the laundry all morning and didn't have enough time to clean the living room.
I told Linda how tired I was most days and Morrison's shedding was just too much for me to clean sometimes. In fact, I told her I'd almost gotten used to it. She laughed and showed me a video of Lisa happily playing with their Siberian Husky on their carpeted floor! And on Lisa's side was a robot vacuum moving around like a small UFO miraculously sucking pet hair and dust from their carpet! I knew then that I had to get it. If it was the solution to my peace of mind and sanity, I was sure to get it right then and there. And so, I placed an order for this robot vacuum cleaner that I so desperately wanted to have.
I was so excited to receive my AIRROBO Robot Vacuum T10+ and after 3 days, it finally arrived! When I opened the box, I didn't quite know how to use it yet, so I had to do a little reading of the manual. I discovered it's so easy to use and I just set it up with an app and connected it with Alexa so I can give it voice commands. It did take me some time to understand how to program my AIRROBO because it needs to scan the room first and make a map. I did register a few restricted areas such as Morrison's bed and litter box.
I wanted to try voice commands and so I said, "Alexa, turn on the T10+." And lo and behold, it started vacuuming my living room away. All of Morrison's hair was vacuumed from the floor, and not only that but Allison's breadcrumbs were also cleaned, as well as dust and dirt that accumulated on the floor. The result? A clean-living room floor that was free of Morrison's shedding and dust carried by our outside shoes. It also has a mop feature since it has an interior water tank, so after vacuuming the floor, I commanded it to mop our entire living room.
At first, I was following it around because I was just so amazed. I kept letting it sweep and mop our floor the entire day! A few days after, I made the AIRROBO T10+ sweep and mop our kitchen floor, Cory's bedroom, Allison's bedroom, and even our porch. One time, Morrison was shedding so much that even when my AIRROBO vacuumed at night, he shedded again in the morning. So I programmed my AIRROBO to vacuum at 7 am every morning, so when I went downstairs, the floor was free of pet hair and squeaky clean.
I can finally sip my cup of coffee as slowly as I can as I watch reality TV, and I can finally read a book on the porch while my AIRROBO does all the sweeping and mopping on our floors. Now, if only there was a robot vacuum cleaner that cleans our sofa and bed, maybe I can finally nap with Allison in the afternoons, too.

After about a week after I received my AIRROBO, I got an after-sales email from the company telling me they were offering a free dust bag if I wrote a review about the device, and of course, how could I say no to a free dust bag? I mean, AIRROBO's dust bag lasts for 45 days before you need to replace it, but the more I have of it the better. Besides, I think I'd need to replace it earlier than 45 days since it's picked up food and other waste, and of course, I don't want bacteria to build up inside the bag.
My robot vacuum cleaner doesn't do the job of a professional cleaner but it does the job of removing pet hair from our floors. It also sweeps out dust and debris, and mops the floor, too, which is a big help for a housewife like me. I need some rest and relaxation sometimes and my AIRROBO helps me reduce my stress levels every day, so I can say I'm completely happy with my T10+ and I hope my story helps you a little in deciding to get it for yourself and your family.